Supertron
---
| | |
| --- | --- |
| Reviewer's opinion: | Great comic from Zuda, worth the read for the crazy storyline, more than worth it for the art and bright visuals! 5/5 |
| Positives: | Amazing art done by a professional comic book artist, and highly original storyline that tells the tale of two robot rivals who will decide the fate of the world! |
| Negatives: | Original pages of Supertron was done in Popgun first meaning the first 8 pages were cut up versions of the first 20 pages done in a standard format making those first 8 a bit vague in the details on the characters like what happened to Spencer's coat. Also the Zuda format is still hard to get used to, but you can say that for every comic there. |
---
---
Before I start…
I have to tell you that I cannot really link you to individual pages of this comic, Zuda's format is solely flash based, but hey! If you read through the comic, you'll better understand my review :3
---
Story and Plot
The story simply enough starts off with Supertron (AKA: Simon) and Spinbot (AKA: Spencer) quarreling over the theft of a bicycle belonging to Spencer's friend Joey. This eventually builds up to Supertron putting a firecracker in Spencer's jacket and setting off all 3 of his warnings soon after prompting the dangerous Mombot to activate and seek out Spencer's destruction for being a bad boy. However, Spencer has plans to tell on Simon in order to avoid his punishment, and from there on the story builds up featuring Moon Crabs, a gang of Hair Metal robots, porno magazines with neon hallucinations of gorgeous women, and even the artist/writer himself appearing on page 60 in order to unload exposition onto you… while naked.
To say that this comic is clever and original seems like an understatement as anybody can find a lot of cool things to like with this story, and it seems oddly nostalgic for those with childhood memories full of bullies, burning ants, and tree houses. Oddly enough the story has the two characters grow up to become men bots with Simon heading off to college and Spencer getting a hair metal upgrade in order to prove that they are the good sons of the destructive Mombot. You'll definitely enjoy this comic, as I really did have fun reading it, and isn't that how all webcomics should be? Fun to read? YES! If there's anything negative for me to say, it would be that sometimes the visuals can be a bit overwhelming at times, but the visuals itself also plays a key part in the story as the random details like soda cans with ribcages are explained in the later pages along with the night sky having lines and neon lights. Again I repeat myself, you'll definitely enjoy reading this comic.
---
Art review
I cannot find anything negative about this comic or my pal's art style. I know it sounds like I'm just pulling myself off of his cock, but just take a look for yourself and tell me the art is bad. Well, it is a bit distracting at times, but regardless of that it's still a professional looking comic, visuals are bright but they don't look out of place or burn your eyes out like a Bleedman comic. The characters themselves have an interesting style and unique characteristics that make them both interesting to look at and beautiful, and the attention and detail given to the world itself really sets up the world of Supertron as a lively, crazy, dangerous, and awe inspiring place to live in.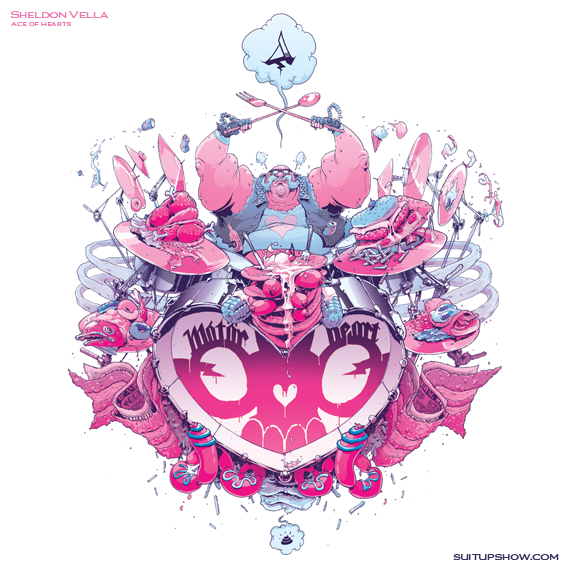 Not part of the comic, but an impressive work by the artist nonetheless.
---
Writing review
You'd think that with me mentioning all the crazy shit in this comic, that the pacing and writing is all out of whack. Aside from the first 8 pages being butchered from Popgun to Zuda format just to get into the site itself, the comic is written at a steady pace. Unlike other webcomics, Supertron's story is told at a nice pace, giving backstory when needed along with visuals, and placing exposition exactly where it's needed while making sure it's entertaining to read (See page 60 for the best example of this).
The character development is a bit slower but still executed nicely as you really begin to feel for these characters, my favorite so far is well… the two main characters. Spencer is still the punk ass jerk we all know and hate from our days in school, but he's still a guy who looks out for his friends, even though he'll occasionally try to steal Lizzy's power cells. Supertron is the friend you always wanted to be around, not afraid of anything and always had the things you wanted as a kid but were not allowed to have ever (Firecrackers, porno), still though, he's a guy who also looks out for his friends and is a big lug who is not only Mombot's favorite, but also has to prove himself the better manbot between him and Spencer by doing what else, going to College! Of course, oddly enough, there's a second Supertron in the comic who is the manic depressive rent-a-cop who has to support a family he doesn't even have. O_O; Admittedly I'm not too happy about how Supertron himself took the back seat to Spinbot for a good half of the comic, but I am glad that Sheldon fleshes out each and every one of his characters in order to make them believable and enjoyable.
Really though, it's hard not to like anybody in this comic, a Father who's really just a tube full of internal organs with a mustache on the outside, the hair metal punk band known only as The Real Steel, how can anybody hate this when even the characters are things we as kids thought were beyond awesome? Anyway, the writing here is top notch, good pacing, great characters, 'nuff said!
---
Conclusion
Seriously top level professional work from a guy who knows what he's doing! If you're a fan of the indy comic scene, you'll definitely love Supertron!
---
Links
page revision: 4, last edited: 16 Mar 2010 00:16